Kasasa Rewards Checking
We believe in rewarding our members. All of our Kasasa® checking accounts are FREE, plus they pay monthly rewards to fit your lifestyle. You choose how you get rewarded: high rates or cash back.
Choose your Kasasa rewards now
Kasasa Cash®
Earn high dividends and nationwide ATM withdrawal fee refunds.
Kasasa Cash Back®
Get paid for everyday debit card purchases, plus get nationwide ATM withdrawal fee refunds.
---
myCUpoints Program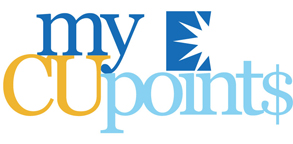 myCUpoints is a no-fee program that rewards you for using your Electro Savings Gold or Platinum Personal Visa® credit card or business credit card, or Rewards Checking Visa® debit card.
Visit Rewards Points Redemption Center
Frequently Asked Questions
How do I earn points?
You automatically earn points when you use your eligible credit or debit card. We keep track of all the points you've earned and provide you with a quarterly myCUpoints statement.
| Eligible Cards | Points Earned per Purchase |
| --- | --- |
| Rewards Checking Debit Card | 1 point per $3 spent on signature* purchases |
| Gold or Platinum Credit Card | 1 point per $1 spent on purchases |
| Business Credit Card | 1 point per $2 spent on purchases |
When can I redeem points?
You can redeem points any time and can redeem as few as 750 points.
How do I redeem my points?
Getting the most out of myCUpoints is easy. The points you earn are always accessible. Whether you want to check your point balance, ask about program benefits or redeem points, you can always get the information you need.
Do myCUpoints expire?
They're good for five (5) years from the end of the year they're earned. So there's plenty of time (and ways) to use your points. Don't let your points expire! If you are unsure about your points, call us before December 31 each year to verify your points' expiration dates.
How do I track my points?
Your quarterly myCUpoints Rewards statement has the information you need to keep you up-to-date on points earned, unique bonus options, special point earning opportunities and more. You will simply receive this statement quarterly through the mail or online where it is updated monthly.
Please refer to myCUpoint for full terms and conditions
What can I redeem my points for?
You can redeem your earned points for any of the following types of rewards:
Travel Rewards that Suit Any Lifestyle
Let your imagination be your guide. Be part of the most flexible Travel Rewards program anywhere.
We let you travel your way:
Any airline, train, cruise or car rental
Any hotel, motel, inn or bed and breakfast
Any season, any day of the week
We will cover just about any travel expenses excluding gas and food.
We let you book the travel your way:
Online Booking Page — Want the convenience of direct booking with us? Use our quick and easy Travel Resource Center. It's the easy way to fly for points. Simply pick any destination from our website — the U.S., Europe, Asia, Africa, Australia, just about anywhere. The number of required points and easy-to-follow booking instructions are right there.
Travel Agency — Call 855.692.8787 to speak with a Rewards Specialist to book your trip. Take advantage of our round trip Airline Ticket, Car Rental, and Hotel packages. And for that truly unique vacation, choose from one of our Sports, Getaway, or Attraction Certificate options! (Note: Some restrictions apply.)
Merchandise
Redeem your points for things you need: home appliances, sports items, computers and electronics, gourmet foods, and more. Hundreds of items to choose from.
Gift Cards
Redeem your points for gift cards to your favorite places to shop and dine. Gift cards are available online and by calling the Service Center. Online gift certificates are also available — redeem your points for an online gift certificate that can be exchanged for merchant gift cards or certificates from hundreds of national stores, restaurants, hotels — and many more!
Downloadable Rewards
Music and Ringtones — Want your rewards right now? Take advantage of our online downloadable rewards. Under the Redeem Points menu on your rewards website, click Downloads. You'll be able to pick from millions of songs and ringtones. And, you'll have your rewards in minutes – right on your computer.
Audiobooks and Movies — We have partnered with QuickGifts.com for great selection and convenience. QuickGifts.com offers instant access to a huge selection of merchants and vendors, and redemption is easy. Redeem your points now for gift cards you can use to download audiobooks and movies, then sit back and relax!
Charitable Donations
We also give you the option to donate your points to the Children's Miracle Network. This non-profit organization is dedicated to saving and improving the lives of children by raising funds for children's hospitals across North America. Each year the 170 Children's Miracle Network hospitals provide the finest medical care, life-saving research, and preventative education to help millions of kids overcome diseases and injuries of every kind.
Call 1.855.MY CU PTS (1.855.692.8787)
If you'd rather speak to a myCUpoints representative, you can call our service center 24/7. A courteous and knowledgeable professional will be ready to answer any questions, help you redeem your points and provide information about myCUpoints.