View all posts
Congratulations to our Scholarship Winners
05/29/2019
By: Stephanie Armas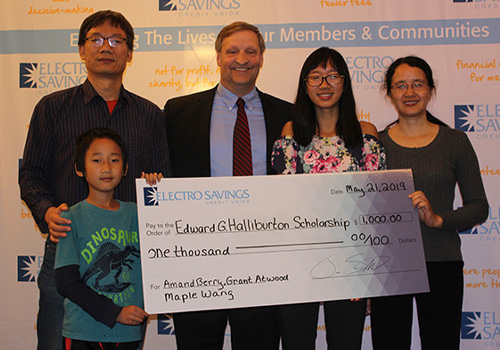 Edward G Halliburton Scholarship Winner, Maple, her family and Edward's Son, Scott.
Each year we recognize three Electro Savings members, who are high school seniors, for their outstanding academic achievements and community involvement. Each student receives a $1,000 scholarship award applied directly to their fall tuition.
This scholarship honors long-time credit union volunteer and Director Emeritus, the late Edward G. Halliburton. Since the scholarship program started in 1993, the credit union has awarded $82,000 to further the higher education of our young credit union members.
Congratulations to this year's recipients, Grant, Amanda and Maple!
Grant is graduating from St. John Vianney High School in St. Louis. He scored a 32 on his ACT and has a 4.29 GPA on a 4.0 scale. He plans to study Finance in the fall at St. Louis University. Grant serves as President of the National Honor Society, is a member of the Math and Spanish Honor Societies, and is in the Duke University Honor Program. He is a recipient of the Bausch and Lomb Award for Innovation in Science and Technology, a Vianney Marianist Award and received a Letter of Assurance from the United States Military Academy at West Pointe. Grant volunteers with the Special Olympics and serves on the Student Council.
Amanda is graduating from Westminster Christian Academy in Town and Country. She scored a 35 on her ACT and has a 4.55 GPA on a 4.0 scale. She plans to study Health Sciences in the fall. Amanda is a member of the National Honor Society, Spanish Club, and a recipient of the President's List Scholar's Diploma all four years of her high school career. She is a member of the Robotics team, serving as team CEO her senior year. Amanda volunteers with numerous organizations helping children with special needs.
Maple is graduating from Parkway South High School in Manchester. She scored a 35 on her ACT and has a 4.56 GPA on a 4.0 scale. She plans to attend the University of California-Berkeley in the fall. Maple is a member of the National Honor Society, a Summa Cum Laude, and a member of Beta Chi Ph and Mu Alpha Theta. Maple is a Concertmaster of Symphonic Orchestra and volunteers with Key Club and the American Red Cross.