View all posts
Hats Off to Diane--Enjoy Your Retirement
06/17/2020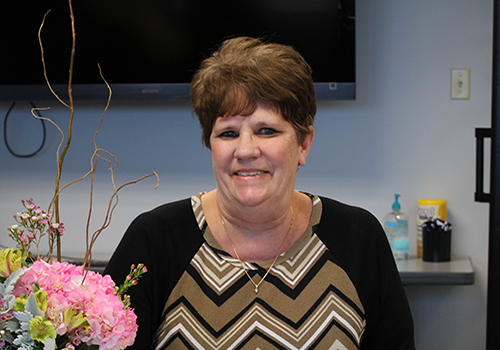 After over three decades of service and thriving in numerous roles at Electro Savings Credit Union, Diane Powers said goodbye to the ESCU family and retired in May.
Believe it or not, her career at Electro began with a newspaper ad. She was on the hunt for a full-time job and spotted a posting for a Teller position. You could say the rest was history. "After starting as an entry-level Teller over 30 years ago, I moved on to be an MSR (Member Service Representative)," says Diane. "And then I transitioned to Supervisor. After that, I transferred over to Branch Manager and then Director of Branch Operations. I finished out my career as Compliance Officer."
What kept Diane loyal to Electro for all those years? She says it was the people. "The most rewarding aspect of my career was definitely the relationships I built with members and fellow employees," says Diane. "I worked with some of the same members for many years and seeing and chatting with them is something I really miss."
Her wide range of positions helped her get to know many members and become familiar with almost all aspects of the credit union. As Compliance Officer, Diane kept a watchful eye on the legal operations of Electro. She made sure the credit union met all regulations, checked accounts for fraud, reviewed all legal documents and carried out a wide range of audits.
During Diane's expansive career, she also saw the credit union evolve into the full-service financial institution it is today. "Of course, you see rates fluctuate throughout the years, but so much more has changed in the past 30 years for us," says Diane. "When I started, we only had one branch, and now we're at four. We also launched a call center, and we've developed so many online and automated services. It's hard to believe, but we didn't even have ATMs when I started!"
Through all those developments, there have been many moments that left Diane feeling especially proud. "We went through a couple remodels and conversions. Those really stand out in my mind," says Diane. "They were a lot of work, and we all put in a lot of hours. But when we reached our goal as a team, all the work was worth it."
Working toward a common goal is just one of the things Diane misses most about working at Electro. "I really miss interacting with my peers and being part of projects. There's just something about seeing goals turn into achievements. Now my goals are a bit different—like cleaning out a closet," Diane says with a laugh.
In this next chapter, Diane looks forward to taking some much-deserved time to do more of what she loves, like spending time with her dad, seeing her two granddaughters and volunteering at her church. "I said I was going to take 30 days to rest," says Diane "but it was really more like two days."