View all posts
Allyship is not silent
06/11/2021
By: Jim Struble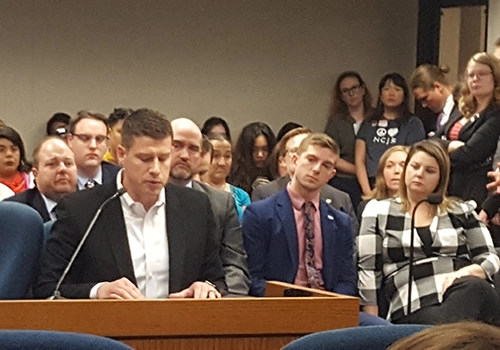 This is not something I have shared with many, but this last year has taught me that you're a better ally if you use your voice, so here is a story for you.
In December of 2018, as a new transplant to the area, I learned the state of Missouri did not include employment protections for discrimination based on sexual orientation or gender identity. In speaking to some folks I knew who were part of the LGBTQIA+ community, I was horrified to learn they had very real fears of being fired from their jobs just for being themselves in Missouri.
By early 2019, I was knocking on many doors at our state capitol with our VP of People, Ashley Keegan, to find out how we could change this! We learned of a bill that was being presented that year named MONA that we could throw our support behind and help. The Missouri Nondiscrimination Act (MONA) was introduced and not passed for over twenty years in a row. Yet, support was growing, and having a "white, straight, male, CEO" testify in person would be a powerful statement.
The picture above is me testifying before the House committee, with Ashley in the background supporting me, and many others she knows personally. As an employer in Missouri, I discussed how it was vital to our business and communities the bill pass. I told the story of how the thought of our state not putting into place employment protections for the LGBTQIA+ community was so outrageous, I didn't believe it at first. I explained how shameful and detrimental it would be to lose a great employee to another state because they didn't feel protected on a fundamental human rights level. Or, how we're losing out on some of the best employees who never move to the state in the first place. Why would they if they don't feel secure in doing so? I shared how my son's godparents are gay, and I have gay friends and employees that I care for deeply. Little did I know at the time, I also have a child who identifies as they/them—which probably would have raised the volume of my voice another few decibels. I asked them to pass the law for business, personal and human reasons. If not, I explained, I would be back to talk about it again with them each year until it passed.
Shamefully, MONA didn't pass again that year. Thankfully, in 2020, the Supreme Court tackled the issue head-on, and every day since June 15, 2020, in every state in the US, workers cannot be fired for being gay or transgender.
Pride Month is a time to recognize our similarities and differences as humans, celebrate the wins we have had in our society, and shed light on the past and ongoing struggles the LGBTQIA+ community has had to endure. It also gives us all a chance to show those we care for that we stand by their side publicly and openly, or as my team at Electro likes to put it, "Walking the Walk."
I am proud to be an ally and proud to be part of a company that is a safe work environment and safe place for all who need banking services.
Happy Pride Month to you all!