View all posts
Teach Your Children Well
04/12/2019
By: Stephanie Armas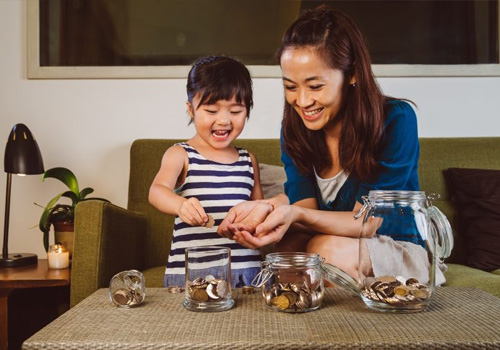 Are you teaching your children good saving habits? For some, saving money is just downright tough, and for others, it's the first thing they do each paycheck, but wherever you fall in that spectrum, it's important to remember your kids are learning from you.
Each year the Credit Union National Association (CUNA) celebrates Youth Month. A whole month dedicated to getting kids and teens excited about saving money and helping them to be more financially literate.
From the Youth Savings Challenge to in-class presentations, we're here to make saving fun and accessible to all our members. Here are some fun ways you can get involved too.
Use a piggy bank
Most kids love spare change, so why not use it as an opportunity to teach them? Each time your child has loose change or a dollar make a point of putting it into the piggy bank with them. Challenge them to fill it to the top! During the month of April, members ages 12 and under can stop by any of our branch locations to pick up a free piggy bank to get them started.
Open a savings account
Piggy-backing on number 1 (ha!), it's never too early to open a savings account for your kids. Once they've completed the challenge of filling their piggy bank, they can bring the money they've already saved as their very first deposit.
Did you know Electro offers savings accounts for youth? Open a Super Saver (ages 0-12) or a Super Powers (ages 13-17) account today, and we'll match their first $5 deposit.
Get excited about saving
The next time they put money in their piggy bank or make a deposit in their savings account give them a positive reaction. That positive reaction can help foster a positive attitude about saving money in the future. Now there's even more to be excited about when you open a Save to Win account! With just $25 you can open a Save to Win account, and with every $25 deposit, you'll get an entry for a chance to win up to $5,000.
Lead by example
Saving without a goal can sometimes be underwhelming, but since children learn the most by example, it's important to let them see you saving as well. Talk to your kids about your saving strategy or create a "piggy bank" for yourself where you put your loose change.
Talk about it
Often people don't think about discussing their financial situation with their kids, but the more open we can be with them the more they'll learn. There are many topics you could touch on: wants versus needs, saving for an item they may wish to buy, the value of hard work for earning money, etc., the list goes on and on.
Give your kids the best headstart by opening a savings account with Electro Savings! And, if they open their account in April, they'll automatically be entered into the National Youth Savings Challenge for the chance to win $100.*