View all posts
Meet Pat Pettey, Our Business Relationship Manager
06/27/2019
By: Stephanie Armas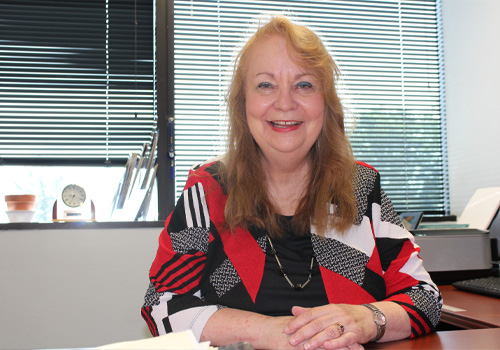 Getting your very own business up and running is no easy feat. At some point, you'll probably want to speak to an expert – someone who's enthusiastic, resourceful and has years of experience under their belt. That someone is Pat Pettey, Electro Saving Credit Union's Business Relationship Manager.
"I'm a big believer in building relationships and helping businesses develop their full potential," says Pettey. "I can offer the best products we have, and I can also offer advice. I have a strong business development background."
Pettey joined the Electro Savings team nine years ago; she previously served as vice president to the business banking group at a large local community bank.
"The consulting, caring nature of the philosophy of Electro Savings is what won me over," says Pettey. "Our model of people helping people fits in well with my nurturing personality. I like seeing people succeed both in their personal lives and their businesses."
Pettey's position at Electro Savings gives her the opportunity to help members thrive in a variety of ways. She not only handles all business loans, but also hosts personal and business seminars. She's a Certified Credit Counselor, helping members understand their credit report and how it directly impacts their business.
"In my position, you have to be very creative," explains Pettey. "No two business members are the same, so we constantly throw out new ideas and come up with answers that will help each member reach their goals."
Her creativity has led to successful solutions for businesses both big and small. She helped a full-time firefighter get the funds he needed to remodel his snow cone business, as well as devised a plan to utilize three different loans to help an older gentleman get the funds he needed to buy inventory. On a larger scale, Pettey assisted a well-established member-business, with millions in annual sales, secure a $250 thousand loan to install solar panels on the existing building.
"That's the great thing about working for a credit union," says Pettey. "We actually take the time to advise and work side by side with our members. We grow with them."
When she isn't working, Pettey is still putting her creative mind to good use. She's a published writer, enjoys drawing and keeps busy as a pastor's wife and grandmother of four.
If you're interested in learning more about Electro Savings' business products and services, visit the business section on our website, stop by a branch or call (314)434-6470, ext. 1406.
Pat will also be hosting a series of business services workshops coming up in September at our Maryland Heights branch.
Saturday, September 14 "Ready"
9:30 a.m. – 11 a.m., Learn the basics of business start-up
Saturday, September 21 "Set"
9:30 a.m. – 11 a.m., Learn the essentials of becoming credit ready, where to get money, the 5 C's of Credit, and how to prepare a business loan application.
Saturday, September 28 "Go"
9:30 a.m. – 11 a.m., Learn how and where to find additional small business support and educational resources.
Maryland Heights Branch Community Room
1805 Craigshire Road
Maryland Heights, MO 63146
RSVP one week prior to workshop date to [email protected] or call (314)434-6470 x 1406.