Electro Newsflash
What's happening at Electro? Read the full newsletter, here.
Our St. Peters Branch is Now Open!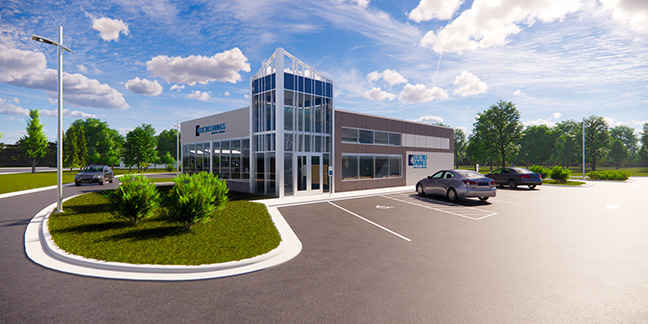 We're excited to announce we've opened a new branch location in St. Charles County! Our new St. Peters branch, located at 3315 Mid Rivers Mall Drive, is now open and ready to serve you. Our newest Electro branch features new technology, giving members the ability to perform transactions outside of the building using Interactive Teller Machines (ITMs). This location also offers a more interactive in-branch experience for members who choose to come inside to take care of their finances.
Upcoming Events
Mobile Mammography Clinic
On Friday, October 28, the Missouri Baptist Mobile Mammography Unit will be at our Maryland Heights branch from 9 a.m. - 2 p.m. Appointments are recommended, and walk-ins are limited to non-reserved time slots.
Before visiting, please check with your medical insurance provider to verify your benefits and eligibility. You will need to bring your insurance card, physician's name/phone number, and a form of identification with you to your appointment.
Missouri Baptist's Mobile Mammography van brings routine screening mammography services to neighborhoods across St. Louis. The van features the latest in 3D mammogram testing, and each exam takes less than 15 minutes. Films are examined by board-certified radiologists and reviewed again with a computer-aided detection system. The results are reported to you and your physician. The van is accredited by the American College of Radiology and is Medicare- and FDA-approved.
Make Time to Make Sure. Call 314.996.5170 to schedule your appointment today.
Free Resources
GreenPath
We partner with GreenPath, a non-profit, credit counseling organization to provide access to one-on-one financial counseling, debt management services, student loan counseling, housing services and online courses. Speak to a certified financial counselor by calling 877.337.3399. Or, visit greenpath.com for additional resources available to you.
Mortgage Options after Forbearance - GreenPath's self-direct, online course that aims to equip you with the tools to make this process a little easier. As the ongoing pandemic continues, many people have concerns about meeting mortgage payments as relief options end. For those facing financial challenges, it's helpful to get clarity of what might happen after their forbearance is over. Our partners at GreenPath developed a self-directed.
Local Food Banks:
ST. LOUIS AREA FOOD BANK
314.292.6262
70 Corporate Woods Drive
Bridgeton. MO 63044
Other Resources:
BETTER FAMILY LIFE, INC
A not-for-profit community development corporation that works to stabilize inner city neighborhoods
https://www.betterfamilylife.org/
314.367.1843
5535 Delmar Blvd., Suite 2100
St. Louis, MO 63112
NORTH EAST COMMUNITY ACTION CORPORATION
A not-for-profit community action agency delivering a variety of social service programs to low income, elderly, youth, disabled and disadvantaged individuals and families
573.324.6622
16 North Court Street
P.O. Box 470
Bowling Green, MO 63334-0470
BEYOND HOUSING
Comprehensive community development organization convening partners and providing leadership. From purchasing a home to health, education, jobs, and economic development, they offer holistic resources and support.
https://www.beyondhousing.org/
314.533.0600 x 11
4156 Manchester Avenue
St. Louis, Missouri 63110-3847
CATHOLIC CHARITIES HOUSING RESOURCE CENTER
Several different services for men, women and families
https://www.ccstl.org/get-services/families/
314.241.5600
800 N. Tucker Blvd.
St. Louis, MO 63101
COMMUNITY ACTION AGENCY OF ST. LOUIS COUNTY (AKA: CAASTLC)
Several different services for men, women and families.
314.863.0015 x 411
2709 Woodson
St. Louis, MO 63114-4817
HOUSING OPTIONS PROVIDED FOR THE ELDERLY
Offers free case management, housing counseling, HUD, caregiver information, etc. for the elderly.
https://hopeforseniorsstl.org/
314.776.0155
4265 Shaw Blvd
St. Louis, MO 63110-3526
JUSTINE PETERSEN HOUSING AND REINVESTMENT
Credit building, understanding credit, homeownership assistance, small business owner assistance and much more.
https://www.justinepetersen.org/
314.533.2411 x 117
1023 N. Grand Blvd.
St. Louis, MO 63106.
LEGAL SERVICES OF EASTERN MISSOURI INCORPORATED
Advances justice through legal representation, education and supportive services. We partner with the community to improve lives, promote fairness and create opportunities for those in need. They have a load of programs and situations they assist with.
https://lsem.org/get-help-now/
314.534.4200
4232 Forest Park Ave
St. Louis, MO 63108-2811
NACA (NEIGHBORHOOD ASSISTANCE CORPORATION OF AMERICA) ST. LOUIS, MO
Non-profit community advocacy and home ownership organization providing mortgage education and assistance.
314.645.8333
3930 Lindell Blvd., 2nd Floor
St. Louis, MO 63108
URBAN LEAGUE OF METROPOLITAN SAINT LOUIS
Daycare, utility assistance, housing assistance, etc.
314.615.3644
3701 Grand Sq.
St. Louis, MO 63108-3627


314.388.9840 x 113
8960 Jennings Station Road
St. Louis, MO 63136-1413
Information From the Missouri & Illinois DMV:
---
Upcoming Financial Workshops
Check out our Webinar Wednesdays with our GreenPath Financial Wellness