Electro Savings Credit Union, through agreements with Lincoln Investment ("Lincoln"), is able to make investment services available to our members. Members can now access many advisor-based financial services right in our branches.
Carl Thoenen is the Lincoln Investment financial representative.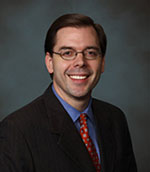 "With all of the Investment products and services available today, it is important to know which investments may help you in achieving your financial goals. Starting an investment portfolio does not have to be frightening or hard to understand. And, you can start with as little as $50 per month. My goal is to help you build an efficient and effective financial plan, designed to help you grow and protect your wealth while minimizing taxes."
Through Lincoln, Carl offers a wide range of financial services, including:
| Financial Consulting & Analysis | Stocks, Bonds, Mutual Funds |
| --- | --- |
| Long Term Care Insurance | Life, Disability & Health Insurance |
| Traditional and Roth IRA's | Employer-Sponsored Retirement Plans |
| Coverdell Education Savings & 529 Plans | Fixed & Variable Annuities |
Developing a financial plan requires time and extensive knowledge, not only of your own personal financial affairs but also of broader investment and financial issues. Carl is a financial professional with experience in investments, insurance, risk management, and financial planning. He will work with you one-on-one to tailor a financial plan that fits your budget, lifestyle, and needs.
Contact Carl for an appointment today for a no-obligation initial consultation. Email or call Carl at 314.434.6470 x1204 or 636.717.3875 for information and details regarding any of these services.
Check the background of your broker-dealer or advisor on FINRA's BrokerCheck.
Learn more about Lincoln Investment
Lincoln Investment Planning, LLC (Lincoln Investment), a dually registered broker-dealer and SEC registered investment adviser, has a written lease agreement with Electro Savings Credit Union (ESCU) to lease office space from ESCU and offer and market Lincoln Investment's products and services to ESCU members. ESCU is not a current client of Lincoln Investment.
Due to this compensation arrangement with the credit union, ESCU employees have an incentive to recommend the advisor, thereby resulting in a conflict of interest.
Your experience with the advisor may not be representative of the experience of other customers, and there is no guarantee of future performance or success.
---
Electro Savings Credit Union and the above firm are independent, non-affiliated.
This site has been prepared solely for information purposes. It is not intended to be a solicitation, offer, or sale of securities products or investment advisory services to anyone who resides outside the United States.
Lincoln Investment is registered as an investment adviser with the US Securities and Exchange Commission and is registered as a broker-dealer in all 50 states. Lincoln Investment and its Financial Representatives may only transact business in a particular state if first registered and only after complying with registration requirements.
Securities and services are offered to residents of the states of Alabama, Arizona, Arkansas, California, Colorado, District of Columbia, Florida, Georgia, Illinois, Indiana, Iowa, Kansas, Kentucky, Louisiana, Maryland, Michigan, Minnesota, Mississippi, Missouri, Montana, New Hampshire, Oklahoma, Oregon, Pennsylvania, Tennessee, Texas, Virginia, Washington, and Wisconsin; any offers herein are not being specifically directed to any persons in any state other than those states for which the Financial Representative is registered; and securities and services cannot be offered or sold until they are registered in the state, and a final prospectus is delivered to investors in the state prior to any sales. Although most states acknowledge the disclaimer procedure, it may not be universally accepted. If you choose an advisory program, you will receive an Investment Advisory Agreement and Disclosure Statement. Read these carefully for more complete information, including costs, before you invest or send money. Lincoln and its Advisory Representatives may receive additional compensation in the form of concessions, distribution fees, or service fees from the underlying investment products that they recommend. Receipt of this compensation may result in a conflict of interest. The Advisory Agreement and /or Disclosure Statement contains information regarding fees, description of services, functional roles and discretionary capabilities of the Investment Advisor, and termination/refund policy for fees paid in advance.
Lincoln shall not be obligated to take action or offer any accounting, legal, or tax advice involving action on our behalf or your behalf. You are encouraged to engage qualified accounting, legal, and tax services from professional providers for those areas of need.
Annuities and securities are not federally insured; are not obligations of the credit union; are not guaranteed by the credit union or any affiliated entity; may involve investment risks, including the possible loss of principal.
NOT NCUSIF INSURED • MAY LOSE VALUE • NO CREDIT UNION GUARANTEE