View all posts
We've Been Named a 2020 St. Louis Top Workplace
08/05/2020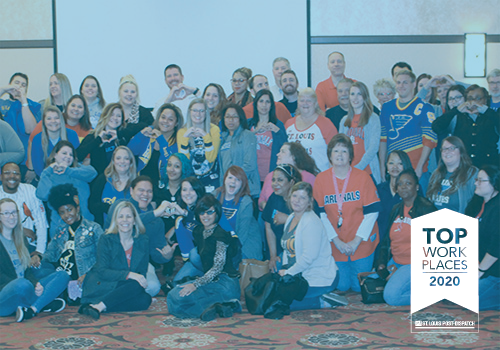 Lately, we've had a lot to celebrate at Electro--the latest being named a 2020 Top Workplace by St. Louis Post-Dispatch! Top Workplace is a huge honor for Electro, for our culture and our team. But what does it mean to you? It means we're on the right track exceeding your expectation as the best place to bank.
I firmly believe everything we do to treat our employees as family reflects in how our employees work with you. When our employees embrace and live a culture built on family, collaboration, and respect, they'll deliver that same culture to you.
As one of Missouri's fastest-growing credit unions, we prioritize the health and success of our employees as part of our overall corporate culture and work environment. Our organization is growing memberships, loans, and deposits at a record pace, and now being recognized as a Top Workplace in St. Louis. Granted, you need a strong strategy, a supportive board, hard work, and a fantastic team to succeed, and we have all that. In the last two years, we've defined the culture at the credit union and launched products and services such as:
All this has led to us becoming one of the fastest-growing credit unions in the state in a host of categories, but it's all for nothing unless we have the right culture, and love our employees and our members. We do!
Thank you for being part of the Electro family. We would love it if you'd share your experience at Electro with others.
Sincerely,
Jim Struble
President & CEO