View all posts
Meet the Friendly Face Behind the Mask: Cassandra Omernik
11/06/2020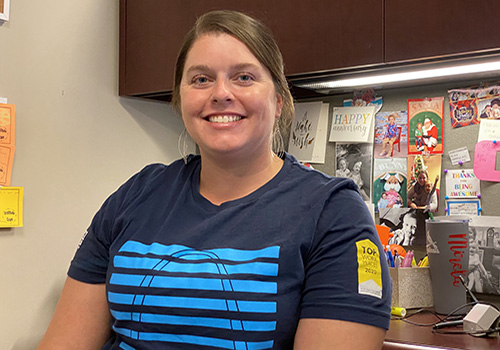 Navigating the financial world can be intimidating, and now more than ever, you want to make sure you're saving every penny possible. But who would possibly take the time to ensure you're making the right financial moves? Enter Cassandra Omernik, a Member Service Representative at our Maryland Heights branch.
"When a member walks into the branch and needs assistance with an account, wants to open a new account, needs to discuss loan options, really anything, I'm the first person they talk to," explains Cassandra. "I really enjoy being the face of the credit union for our members."
She's been serving members at Electro for just over a year now, but Cass has heaps of valuable experience under her belt. She previously worked in high-demand retail and operations management roles, but after having her son in 2015, she realized that work environment wasn't providing her with enough time for her family.
"A friend of mine suggested I work at a bank," says Cass. "I started as a Teller but quickly realized it wasn't for me. I have a personality where I need to work with members face to face and really get to know them."
Cass's glowing personality, matched with her strong attention to detail and willingness to go the extra mile, is what makes her an exceptional Member Service Representative. She goes above and beyond for members, building relationships and earning their trust to find the perfect product or new solution to help them save.
"When a member needs a loan, we run their credit report. I take extra time to look over the report to see if there's any way we can save the member money," says Cass. "I'm not in it to sell a new product or earn myself a bonus. I always have my members' best interests in mind, and my goal is to help better someone's financial lifestyle."
The COVID-19 pandemic has presented a whole new set of challenges to both members and the credit union, but that hasn't slowed Cass down. "We're all in this together, and I want members to know I'm still here, even if that's by phone or email," she says.
Her supportive nature is what makes all the difference for members. Recently, an older gentleman was denied a small loan. He planned on using the funds to take his ill cat to the vet. "He adored this cat, and he just needed a small loan," says Cass. "I went back to our underwriter, explained the situation, and we found a way to get him approved. When I told him, we both ended up with happy tears in our eyes."
When she isn't masterfully finding solutions for members, Cass enjoys being active by playing basketball, practicing CrossFit and participating in a sand volleyball league. She also loves to experience new places and looks forward to being able to travel again.