View all posts
D.J. Makes a Difference When it Matters Most
01/04/2021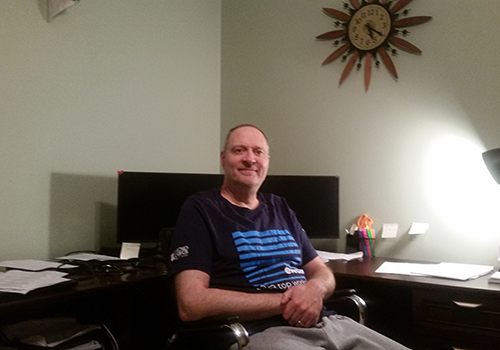 For Electro's Member Advocacy Representative, D.J., treating members with respect and empathy isn't considered going above and beyond—it's just doing the right thing. So when Electro member Shane fell on hard financial times, D.J. treated him just as he would treat any other member. While it may have been business as usual for D.J., his way of communicating and handling a tough situation made a years-long impact on Shane.
D.J.'s Role at Electro
When a member is past due on any type of loan payment, they receive a call from the Member Advocacy Department at the credit union, and the one making that call might just be D.J. And while D.J. is calling members to find a way to help get them back on track, he doesn't see his role as one of a collection agent.
"I'm not just calling to get their money," says D.J. "I'm there to understand their situation and offer solutions to help them get back on their feet and keep their accounts current. Especially right now, with COVID-19, I understand members have lost their jobs or had their hours cut."
Before D.J. joined Electro seven years ago, he held similar positions at other companies—but he considers those past roles true "collections" work.
"I enjoy the work I do here a lot more," says D.J. "I really get to know members. Plus, our department is like a real big family. Everyone offers guidance and shares advice from what they've learned in the past. We all help each other move forward."
Service in Action
It's that supportive culture, and D.J.'s caring nature, that made all the difference for member Shane. Years back, Shane refinanced his car with Electro after receiving a promotional postcard in the mail.
"Refinancing my car was a great first experience with Electro," explains Shane. "The process was quick and easy, and I was able to save about $100 a month on my car payment."
Down the road, Shane's finances were tight some months, and making loan payments was difficult at times. That's when he and D.J. first connected.
"D.J. never once made me feel like he was a collections agent," says Shane. "He never made me feel inferior or used intimidation tactics. The word 'tow' never even came up. He wanted us to work together to come up with a solution."
While Shane was blown away at the personal, empathetic service he was receiving from the credit union, D.J. felt like he was just doing what he does best—giving members the respect they deserve.
"I'm so happy to hear Shane was appreciative of our calls and interactions. I really do treat all my members the same," says D.J. "I treated Shane as a family member, and I didn't approach him like a third-party collection agent who was just after his money."
As time went on, Shane and DJ would occasionally speak over the phone—strategizing together to make sure payments were made. Shane's father was facing many health problems and then suffered a massive stroke in 2016, and Shane became his primary caregiver.
"D.J. always asked about my dad," says Shane. "He sincerely cared about how he was doing. We just built an awesome relationship over the phone."
Shane was deeply appreciative of D.J.'s always-constant professional and personable demeanor. D.J. was easy to reach, easy to talk to and never made Shane feel bad about his situation.
"I want members to know that I'm not there to scare them—I'm here to help with hard situations," says D.J. "Shane was facing the heart-wrenching situation of having a very sick father. I saw him as an individual, and you never know what kind of hardship someone is facing."
In 2019, Shane's father passed away, and he was left dealing with many financial loose ends as well as taking care of his mother. When he needed some extra funds to make ends meet, he once again turned to Electro to finance a loan.
"I loved my experiences with D.J. so much, so how could I not use Electro for another loan?" says Shane. "It's pretty incredible to think that the deciding factor of where I would finance my next loan would be D.J.—who was really calling me because I was behind on loan payments. I bet a lot of people can't say that about collection agents."
Continuous Commitment to Members
Shane's story is just one of the many reasons why D.J. enjoys his work and puts his full heart into member interactions. When asked why he thinks building lasting relationships with members is important, his answer is simple.
"Really, members and I are building a long-term relationship similar to a marriage," D.J. says with a laugh. "Many people have loans for five or more years. That's a long time to stay in touch with one individual, and it's crucial to start that relationship off on the right foot."
Plus, building a trusting relationship doesn't just benefit the member, but also the credit union.
"Encouraging an open line of communication is good for everyone involved," says D.J. "Taking the time to hear and understand the member is good for them and the credit union. Getting to know the members and working to resolve any issues they may be having is really the best part of my job."
When D.J. isn't working, he and his wife enjoy getting outside and hiking in national parks. They just recently visited the Great Smokey Mountains.