View all posts
A Passion for Listening, Learning and Making Meaningful Change
05/24/2021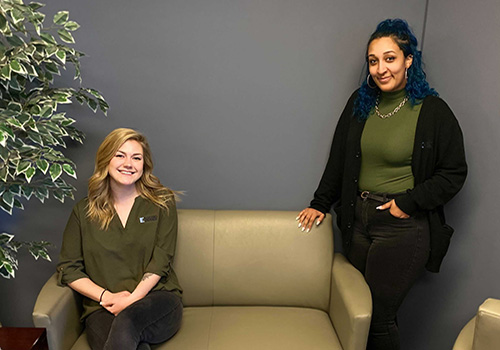 When it comes to creating a workplace culture of acceptance and inclusiveness, many companies talk the talk. At Electro, the goal is always to walk the walk as well. We know our strongest asset is our employees, and that's why we work to ensure no one's concerns, opinions or new ideas go unheard.
Initiatives like paid time off to volunteer and the Power of You program are just a couple examples of how we put our promises of a progressive workplace into action. More importantly, we know there is always room for growth. Last summer, Member Advocacy Consultants, Ana Morgan and Chynna Gomez, recognized an opportunity for the credit union and wasted no time turning their passion into a plan.
Meet the Changemakers
Like many of us, Ana and Chynna were stunned and saddened to hear the stories of George Floyd and Breonna Taylor last summer. Their deaths ignited protests around the globe and brought a renewed energy to the fight against racism.
"Seeing the actions that were being taken for George Floyd and Breonna Taylor got us thinking about other ways we could contribute to making a difference," says Ana. "Juneteenth came around, and there was a big event in St. Louis to celebrate it. The more Chynna and I thought about it, the more we realized if Columbus Day and the Fourth of July are celebrated everywhere, Juneteenth should be too."
Ana and Chynna set aside some time to draft a proposal explaining why Juneteenth should be a paid holiday for credit union employees. Both of them knew "yes" wasn't a guaranteed answer but agreed presenting their idea, regardless of the outcome, would start an important conversation within the credit union.
"Even if the team said no, it still meant something to put this proposal out there," says Chynna. "We used the opportunity as a way to explain Juneteenth and why it should be acknowledged as a paid holiday."
Their proposal was a hit within their department and was immediately sent to Jim, our CEO.
"The team praised me and Chynna for working to create an inclusive culture, but it was really the credit union that created this amazing culture. We're just enhancing it," says Ana. "I'd never felt so comfortable and confident to come forward about something I'm passionate about."
Last summer, large corporations like Twitter and the NFL announced they'd be giving employees the day off in honor of Juneteenth. This gained a lot of media attention, but for Chynna and Ana, it was crucial for change to happen within smaller, local companies too.
"Electro choosing to close affects a lot of people, so we'd make a pretty big statement by doing this," says Chynna. "We're a tight-knit community, and everyone from employees to members would feel the impact of this decision."
"You don't turn to Twitter for financial assistance or to build a real relationship," explains Ana. "Local means home and you want your home to embrace diversity and show that it's committed to improving."
Both Ana and Chynna believe Electro closing for Juneteenth builds a lot of respect and trust within the community.
"I think we have the power to create a ripple effect. Yes, it's true that closing will cause us to lose a day of business, but I hope community members and small businesses will see that the positives outweigh that one negative," says Chynna. "If anything, our closing will spark curiosity-which will lead to more people learning about Juneteenth."
In their proposal, Ana and Chynna both emphasized that learning is the first step to making real, positive change. Both of them hope closing for Juneteenth will be a catalyst-one that sparks curiosity, initiates open conversations and inspires us all to learn more about the holidays and traditions we celebrate.