View all posts
Meet the Friendly Faces of St. Peters
07/14/2021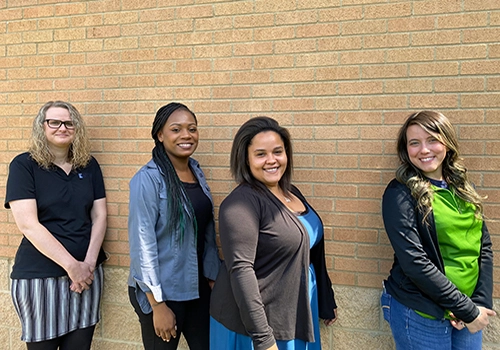 The entire Electro team has been looking forward to serving the people of St. Peters, St. Charles County, and beyond for quite some time, and we're thrilled to finally welcome members through our doors later this summer. Just like the new features and technology at the branch, the St. Peters team is anything but ordinary. They're a dream team of listeners, problem solvers, and innovators—and they're looking forward to serving you!
Sarah Hulsey, Branch Manager
Part of the Electro team since June 2014. Sarah earned her degree in elementary education, but after graduation, was feeling a bit unsure of her career path. She applied for a Teller position at our Maryland Heights branch and the rest is history. She worked her way up to Branch Manager, working in various departments beforehand.
"I knew I needed to keep challenging myself and taking new positions," says Sarah. "And at Electro, the entire team cares about you personally and professionally. It's a great place to grow."
Her favorite features about the new branch
From perks that make life a little better, like parking lot charging stations for electric vehicles and an in-branch coffee bar, to community-focused enhancements, Sarah's had a hard time picking just one.
"The small things make a big difference," says Sarah. "The interactive community board is a favorite of mine. It's located at the branch entrance and shows members how we're truly involved with their community and making a lasting impact."
Lastly, Sarah is excited about the unique lighting system at the new branch. Overhead lights, located in the branch atrium, can illuminate in different colors—giving us a way to express ourselves through color and light.
What she's looking forward to most about working in the new branch
Many members Sarah knew from the Maryland Heights branch live and work close to St. Peters, so she's looking forward to seeing them again and building new relationships.
Fun fact about Sarah
She's been skydiving! Sarah braved the jump with her late sister, and it's a special memory she'll cherish forever.
Tami Stendal, Universal Member Representative
Part of the Electro team since January 2021. In the early 2000s, Tami worked for credit unions, and more recently, she worked as an administrative assistant for a small business and in the IT department for Enterprise. The COVID-19 pandemic left Tami searching for a new position and re-evaluating where she saw herself in the future.
"What I enjoyed most about my past 20 years of working was helping people," says Tami. "I saw a position open with Electro and decided to give it a shot!"
How she feels this branch sets itself apart
"This branch is far more hands-on with the community. When members walk into the lobby, we'll walk them to a desk and take care of their unique needs," explains Tami.
The St. Peters branch also has computers available for members to use to open accounts, set up bill pay, make loan payments, and more. Tami is looking forward to helping members take care of anything they need right at the branch, and if they run into a snag in the process, she'll be there to help.
What she's looking forward to most about working at the new branch
Of course, the brand-new and bright atmosphere of the branch is a highlight for Tami.
"I'll be working with people I've grown up with," says Tami. "And I'll definitely be telling more friends and family members about the benefits of Electro."
Sasha Glover, Universal Member Representative
Part of the Electro team since February 2021. Although Sasha is new to the Electro team, she's no stranger to the credit union scene. Sasha was a Lead Teller at another area credit union before applying for the UMR role at Electro.
"Electro really feels like my second family," says Sasha. "If I'm going to spend a lot of time at work, I want to feel like I'm surrounded by people who care about me, and that's exactly what I feel working here."
Her favorite feature about the St. Peters branch
"It's going to be sunny, bright and full of smiles!" says Sasha. "I love how natural light flows into the new branch."
What she's looking forward to most about working in the new branch
Speaking with members! Sasha is eager and ready to help members in person, get to know their unique needs and goals and be a helpful, welcoming face at Electro.
Something you'd find surprising about Sasha
She's actually very shy! She doesn't seem like it, though, especially when she's chatting with and getting to know our members. Sasha also loves football, country music, line dancing, karaoke, hunting and mudding!
Brittany Pfaffenback, Universal Member Representative
Part of the Electro team since January 2017. Brittany started out as a Teller at the Maryland Heights branch and eventually transitioned to a floating UMR role, so she had the chance to visit all our branches and gain a deeper understanding of our entire membership.
"The experience of traveling between branches helped me gain skills I use every single day," says Brittany. "Moving from branch to branch allowed me to help so many different members, and now I know how to provide an array of solutions for all different needs."
A unique feature at St. Peters she's excited about
Instead of Teller stations, the St. Peters branch has VTMs (Video Teller Machines). Members can complete all kinds of transactions with the help of our Digital Team.
"If you want to complete a transaction in the branch with a UMR, you still can!" says Brittany. "But with the addition of VTMs, the in-branch experience will be very open, welcoming and laidback."
What she's looking forward to most about working in the new branch
Since Brittany has been with us for a while, she's excited to take everything she's already learned and apply her knowledge at the St. Peters branch.
When she's not at work, Brittany enjoys
Spending time with her fiancé and two dogs—and karaoke! Her go-to song? "Lady Marmalade" by Christina Aguilera.